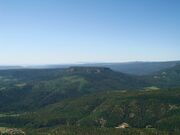 Urraca Mesa is a large mesa on the property of Philmont Scout Ranch. The mesa has a long history of mythical and supernatural associations, dating to the local indigenous tribes, some of whom believed it to contain the gateway to the underworld. There exist a variety of other more recent ghost legends, some from the land's Mexican occupants, others from those in the cattle trade who used it as a winter home for their livestock, and still others from the early days of the area's use as a Boy Scout ranch. These involve, among other themes, unexplained blue lights, wandering murderous monks, amorphous horsemen dressed in black, and a lost Scout.
The mesa has a number of other more worldly peculiarities to which some of its mystique may be attributed. These include the presence of a large quantity of lodestone, which serves to disorient the compass of anyone who ventures too close to it; the mesa's vastness and complete flatness, making it easy to become lost; and the shape of a skull which adorns its topmost area, which is visible on a topographic map. It also has the highest incidence of lightning strikes of any place in the state, making it highly dangerous to be atop it during a storm.
Though the various ghost stories are generally treated with ostensible contempt by the campers and staff of Philmont, there remain no camps atop the mesa, and camping is prohibited there unless in exceptional circumstances. Indeed, staffers often scrupulously avoid crossing the mesa at night, and if forced to do so, avoid looking in any direction except forward along the trail.
The ghost stories are well documented as made up fantasies yet there are those who are willing to believe anything they hear.
Ad blocker interference detected!
Wikia is a free-to-use site that makes money from advertising. We have a modified experience for viewers using ad blockers

Wikia is not accessible if you've made further modifications. Remove the custom ad blocker rule(s) and the page will load as expected.